---
---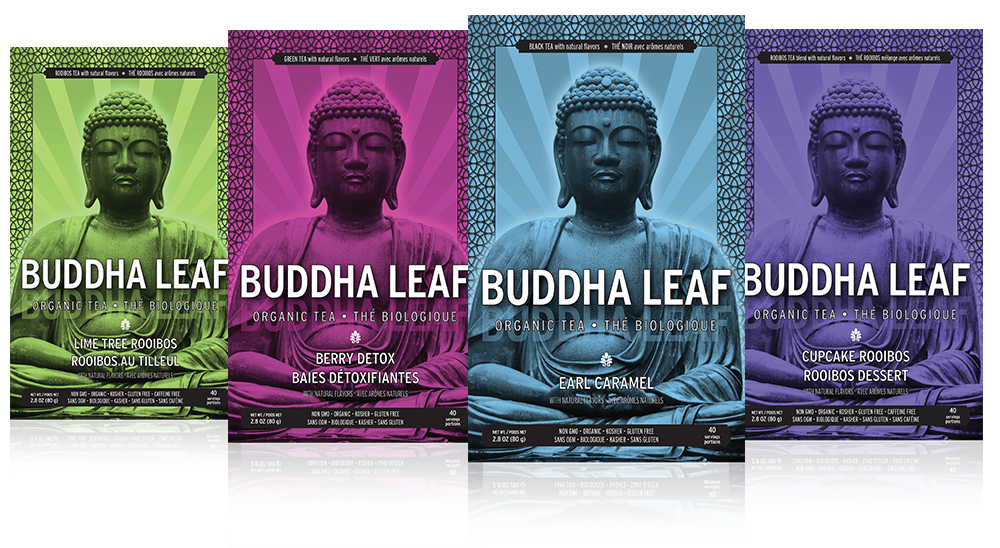 Buddha Leaf Tea is packaged in environmentally friendly, easy to handle, re-sealable pouches.
Our teas are priced below that of comparable quality, so far only found in Specialty Boutiques. Buddha Leaf delivers great value at 40 cups per unit.
---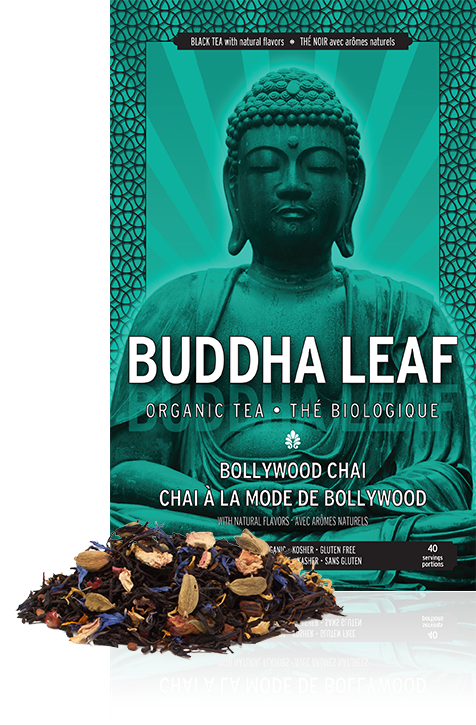 Bollywood Chai
This aroma bomb of delightfully malty black tea with fragrant spices and flowers is sure to tantalize the palate. Rich and smooth, this chai is designed to not only be enjoyed traditionally with milk but also works perfectly on its own.
Ingredients: Black tea, carob bits, cardamom,pepper, rose petals, brazil pepper, marigold petals, corn flower petals, natural flavour, safflower petals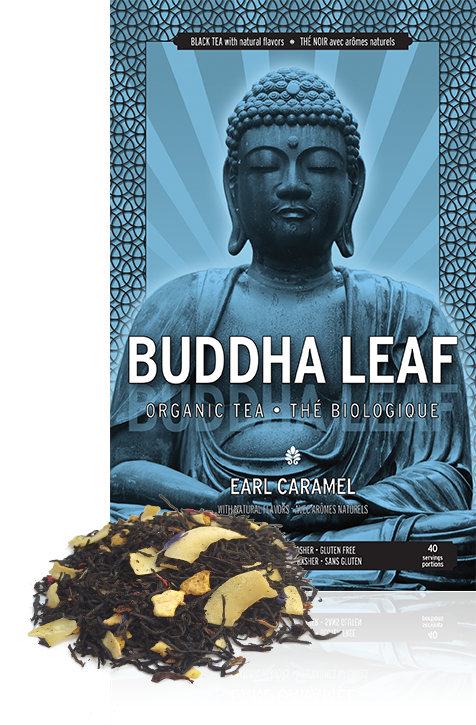 Earl Caramel
A satisfying twist on an old favourite. Smooth top quality Ceylon tea with fragrant bergamot and creamy caramel notes. This is taking Earl Grey to the next level. Satisfying like dessert – without the calories.
Ingredients: Black tea, coconut chips, citrus peel, carob bits, oil of bergamote, natural flavour, corn flower petals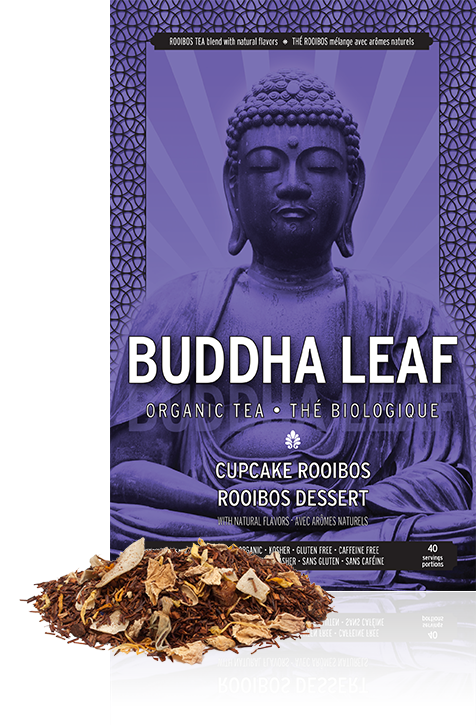 Cupcake Rooibos
Imagine the powerful health benefits of Rooibos tea with the rich and creamy aroma of vanilla, coconut and cinnamon. Forget ice cream and opt for this zero calorie crowd pleaser.
Ingredients: Rooibos, coconut chips, cinnamon, ginger, pineapple bits with rice flower, rose petals, vanilla bits, natural flavour, marigold petals.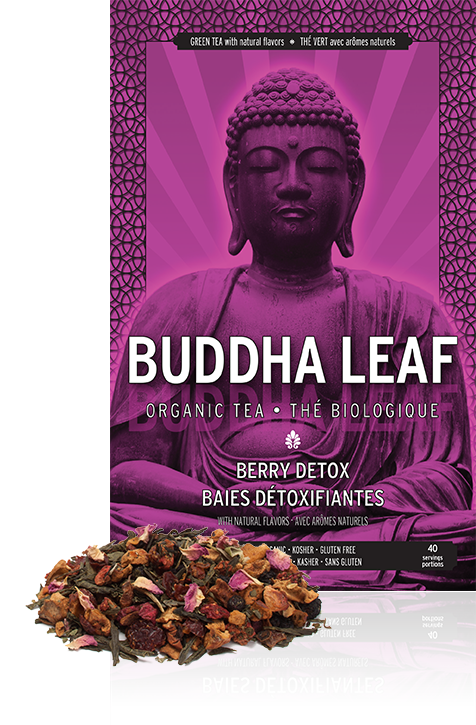 Berry Detox
Antioxidant rich green tea is boosted with powerful super fruits. Blueberries, black currants and strawberries give this cleansing and delicious tonic its delightful punch. The wonderful sweetness of the berries make it easy to be good. Also great iced.
Ingredients: Green tea, apple bits, rosehip, black chokeberries, elderberries, strawberry bits, raspberries, blackberry leaves, blueberries, natural flavour, black currants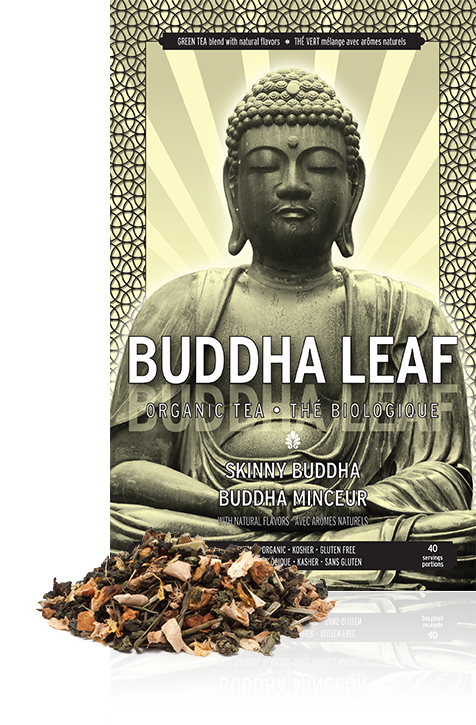 Skinny Buddha
Metabolism boosting green teas have shown to aid with weight loss. This powerhouse has been carefully blended with sweet orange and ginger. A little piece of heaven. Soft and smooth with powerful health benefits . Also great iced.
Ingredients: Green tea, ginger, citrus peel, lemon grass, marigold petals, lemon myrtle, natural flavour.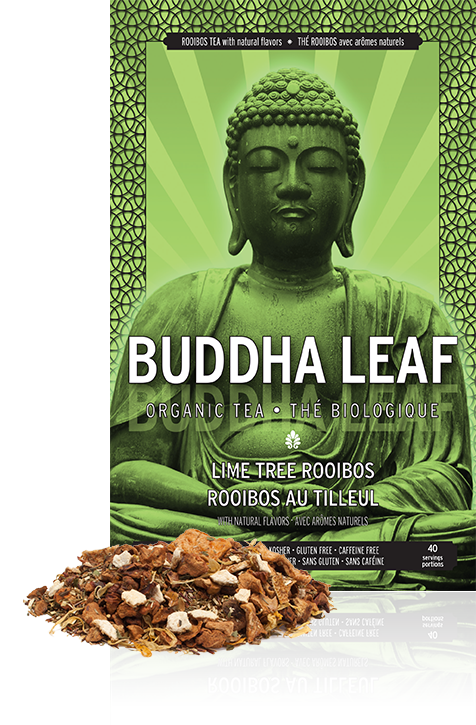 Lime tree Rooibos
Green South African rooibos with fragrant lime. Rooibos is a caffeine free and healthy powerhouse, loaded with antioxidants, vitamins and minerals. Gentle and soothing to the body with uplifting and bright flavours. Also great iced.
Ingredients: rooibos, apple bits, spearmint, citrus peel, apple slices, citric acid, natural flavour, marigold petals.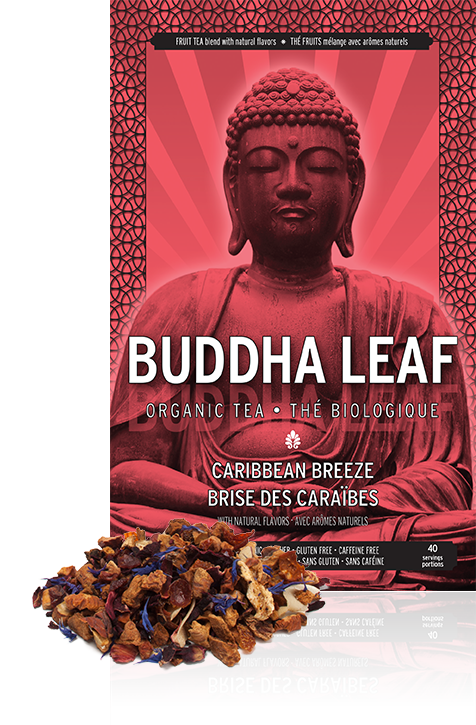 Caribbean Breeze
Instant vacation with the flavours of the Caribbean. Let yourself be swept away by this amazing fruit blend. Pineapple and coconut are the stars in this tea. Just the beach might be missing. Also great iced.
Ingredients: Apple bits, rosehip peel, hibiscus flowers, coconut chips, beetroot chips, pineapple chips, natural flavour, corn flower petals.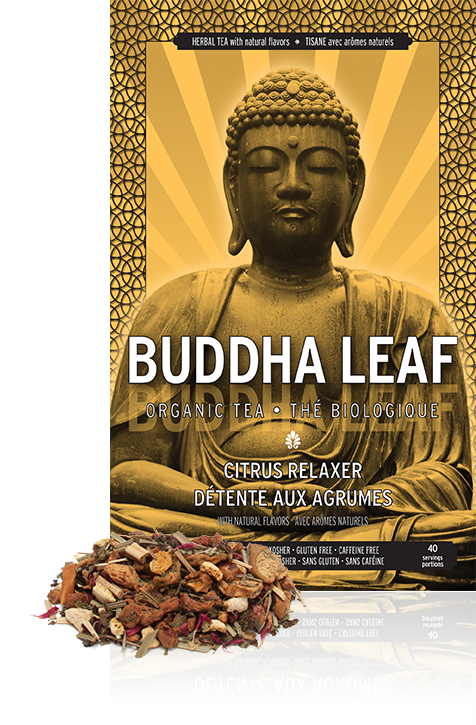 Citrus Relaxer
Melt the stress away! Fresh notes of citrus peel and lemongrass deliver a soothing and relaxing experience. This herbal infusion is our favorite night time blend. Also great iced.
Ingredients: Apple bits, lemon verbena, lemon balm, lemon grass, citrus peel, lime bits, hibiscus flowers, apple slices, cornflowers, lime oil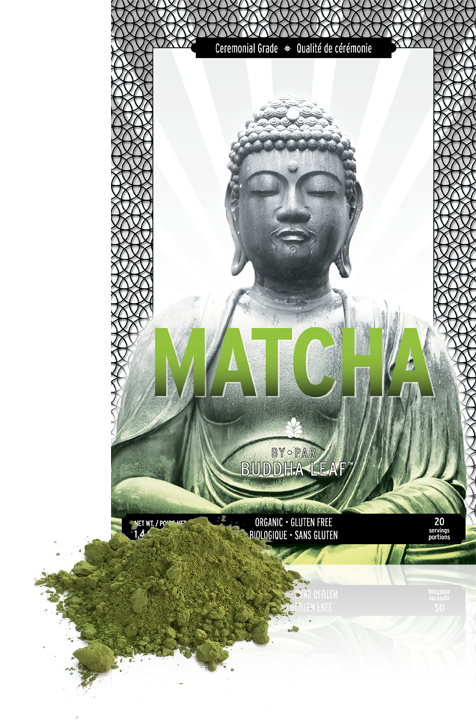 Matcha
The highest grade Japanese shade grown tea leaves are painstakingly deveined and slowly stone ground. This ancient process has been used to produce the best Matcha for many centuries.
Ingredients: Organic Japanese matcha
Our interactive aroma bars have shown to boost sales by 40%, while creating a loyal customer base. Let us outfit your location with these free profit makers.